BANDS
Fridays Only 7:30pm-11:30pm Cover charge for guests and non members of St James Legion is $7.00
NOVEMBER
3 - 4 on the floor
10 - Marvels
17 - Rock The House
24 - DMG Dance band
DECEMBER
1 - Whoopsie Dacey
8 - 4 On The Floor
15 - Dynamics
22 - Geoff Erickson Band
29 - Ravin Band
SPECIAL EVENTS
For more info Click Here!
Nov 11 - Remembrance Day
Nov 18 - All Steak Meat Draw
Nov 18 - Trivia Night
ON GOING FUNCTIONS
Texas Hold Em Tuesday 6pm
Chase the Ace Tuesday
Meat draws Fri/Sat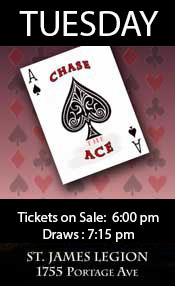 ABOUT US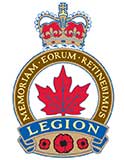 The Royal Canadian Legion, St James Branch No. 4 has been part of the St. James community since 1917 when the St James Legion No 1, as we were originally known as, was founded by the Great War Veterans Association (G.W.V.A). Since that time we have continued to raise awarnes and raise money to help all Veterans.
Feel free to browse through our web site to find out more about what we do to help our Veterans and the community. And why not drop by the club sometime and see for yourself what we're all about? You will find a friendly relaxed atmosphere here and you will be more than welcomed by our members and staff. We have snooker and pool tables, dart boards and VLTs for your enjoyment. We have a well stocked canteen where you can get a good meal for a very reasonable price. Plus the canteen also does catering if you have a large group to feed! There is also a live band every Friday, so come on down and show us your dance moves!
St. James Legion now has free Wi-Fi with Shaw Go WiFi and MTS HotSpot;